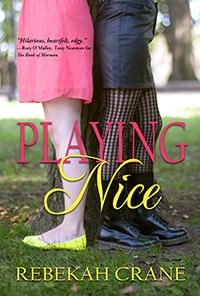 Martina "Marty" Hart is really nice. At least, that's what people think...
Playing Nice
is the achingly true story of a girl who's been following the rules for so long she's forgotten who she was when she started. It's about falling in love with the wrong people and not seeing the right ones, about the moments in life when you step out of line, take a chance ... and begin to break free.

Each book in author Andrea Montalbano's new tween ebook series spotlights a member of the competitive all-girl Brookville Bombers soccer squad as she encounters adversity -- and topples it. With the help of teammates, friends and the Soccer Sisters Code, a list of ten unbreakable rules to live and play by, the tween protagonists wrestle with fitting in, standing out, and staying strong ... on and off the field.

Check out this clip of Brandi and Andrea on the TODAY Show on December 4!