COMING SOON!
Carly Keene, Literary Detective: Braving the Brontes
"Mix two parts adventure with one part literary history, add one spunky Alaskan girl, and you've got a fresh new series that puts the reader on the scene with Carly Keene Literary Detective. In this first book of a series, Katherine Rue creates a rollicking adventure that takes readers from an island in southeast Alaska to the moors of England where the Bronte sisters are about to be inspired, Carly style. Not to be missed."
-- Debby Dahl Edwardson, author of 2011 National Book Award Finalist
My Name is Not Easy


--
Sarah Ellison, Vanity Fair Contributing Editor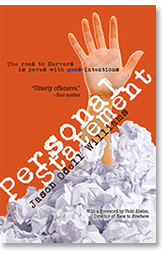 Getting into college has never been harder. Can't rely on a perfect SAT score or a 5 on your AP Mandarin exam. Field hockey and basketball? Please. The real sport is Volunteering. Change the world--and tell Harvard all about it.
In Jason Odell Williams' hilarious first novel,
Personal Statement
, it's open season on admissions--and a Category-3 hurricane is headed for Connecticut. To the kids in Cawdor, it's not a natural disaster. It's an opportunity. Let the games begin!






Each book in author Andrea Montalbano's new tween ebook series spotlights a member of the competitive all-girl Brookville Bombers soccer squad as she encounters adversity -- and topples it. With the help of teammates, friends and the Soccer Sisters Code, a list of ten unbreakable rules to live and play by, the tween protagonists wrestle with fitting in, standing out, and staying strong ... on and off the field.